Those of us who live in South Florida or on the Atlantic coastline know what summer really means: Hurricanes. Every year, between June and October, a handful of hurricanes and tropical storms make landfall and wreak havoc on the east coast. In 2018 and 2019, losses and damages caused by hurricanes and storms were reported to be an estimated $136 billion (with a B). That's a lot of moolah.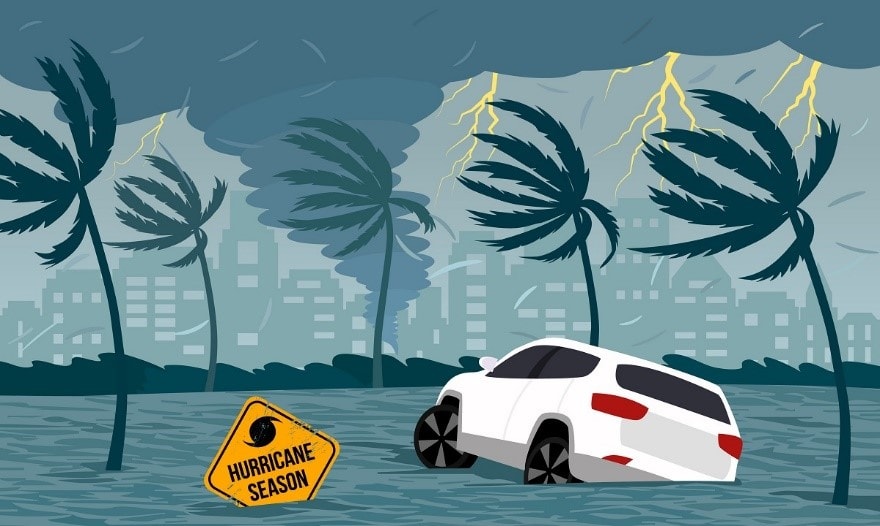 However, hurricanes and tropical storms move slowly enough to give us advance warnings and ample time to prepare for the worst. Priority 1 is to protect your family and yourself, but what about your car? The steps and tips outlined below should help you to protect your vehicle from bad weather during the next hurricane season.
Uninstall Exterior Accessories
Any OEM or aftermarket add-ons can be damaged or cause damage to other vehicles. This includes bike racks, roof racks and antennas, among others. If you can remove these yourself, it's a good idea to do so; if not, make an appointment with your car dealer to have them uninstalled for you.
Our Miami car parts stores will gladly help you remove your OEM auto accessories. Contact us at 305-720-2629 to request assistance.
Keep an Emergency Roadside Kit
If you must travel while a hurricane approaches, there's no more important step to take than building your emergency kit. It may just end up saving your life. Here's what to add to your kit:
Pocket knife or multitool
Road flares
Jumper cables
Spare clothes
Blanket
First-aid
Potable drinking water
High-protein snacks
Flashlight
Spare batteries
Phone charger or powerbank
Crank radio
Duct tape
Essential medication
Eyeglasses (if needed)
Basic hygiene items
These roadside kits should be waterproof, so store everything inside plastic bins or bags.
Find Safe Parking
There are few places that offer protection from a violent hurricane. To keep your vehicle as safe as possible, try to find a parking spot that is elevated and far enough away from trees, poles or any fixture that may fall. Don't park near power lines, smaller vehicles, traffic lights, road signs, or anywhere saturated with gravel or rocks.
In South Florida, multistory, indoor garages are fairly safe from the elements. If you plan to store your vehicle in your home garage, be sure to remove all items from shelves and line the exterior with sandbags.
Protect Car Windows
Cover your windows with thick blankets, using the door jambs to hold them in place. Grandma's hand-knitted quilts have never had a more important purpose.
Masking tape can also be used as a cheap protectant for windshields, windows and auto glass. Cover each window with the tape, using a crisscross pattern almost like a chain-link fence, being sure the adhesive part of the tape sticks to the glass. If your window shatters, the tape should help to hold everything in place and minimize damage.
Try a "Flood Bag"
Floodwater can absolutely destroy your vehicle. Even so much as a foot or two of storm surge will ruin your engine. A flood bag, like the Texas Flood Bag, can help protect your vehicle from flood water during a hurricane or storm. They're simple to use and take minutes to close up.
Top Off the Gas Tank
If you've ever been her for the lead-up to a hurricane, you know things get crazy – especially at the gas station. People begin to stock up on fuel for their generators in case there are power outages, so supply may be limited. Head to the pump as soon as possible to fill up on gas; consider filling up a portable gas canister as a backup.
Ask Your Auto Insurance Agent if You're Covered
Email or pick up the phone and call your insurance agent to see what hurricane-related damages are covered under your auto insurance policy. Does your policy include protection from floods, standing water or surging water, fallen debris, or anything else?
Take Photos
Be proactive by taking photos of your vehicle before the storm. This includes clear pictures of the exterior, engine bay, interior (all angles), trunk, and underneath the vehicle if possible. If your car is damaged in a storm, you may find these pictures useful in filing a claim with insurance.
Make Copies of Your Documents
Store a copy of your car registration, insurance card, title, and any other important vehicle documents in plastic bags. You can keep these copies in your home or someplace secure. Should you lose your vehicle to flood water, you'll have a good trail of proof to help you make a claim or police report.
Take Care of Routine Maintenance Early
Have you run down the checklist and gotten your oil changed, windshield wipers replaced, and tires rotated? Before the storms hit land, make an appointment with your service center. In the event of a mandatory evacuation, you'll be glad to have a reliable vehicle to get you through traffic.
Speak with someone at any of our
Miami car dealerships
to
schedule a service appointment
prior to the next hurricane or tropical storm. Stay safe out there, South Florida!