What Car Is Right For Me?

New vs. Used vs. CPO
Having trouble determining whether you should buy a new, used or Certified Pre-Owned car, truck or SUV? We make it easy at our car dealerships in Miami, FL. All our Braman Miami car dealers offer brand-new cars for our shoppers. Or, if you'd prefer a like-new car at a lower price, you can view our Certified Pre-Owned models. Looking for something more economical? Then take a look at our used cars for sale near you.
Not quite sure what type of vehicle you should buy? Learn more about the pros and cons of each option to help determine whether you should buy a new, used or certified pre-owned vehicle.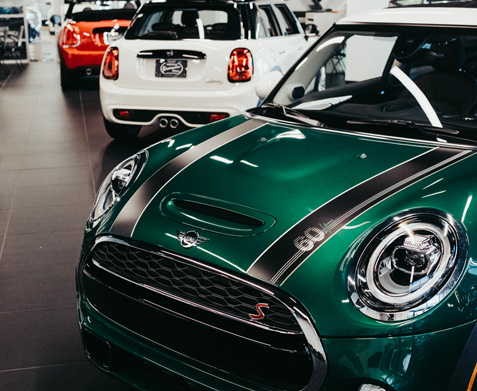 New Vehicles: Pros & Cons
| | |
| --- | --- |
| Advantages | Disadvantages |
| Shopping is easy. Find a model you like and get the paperwork started! | Depreciation. The vehicle will lose most of its value after 3 years, and you could end up being "upside down" on a loan if the vehicle's value craters. |
| Warranty. You're covered by the full manufacturer's warranty, which can range from 3 years to 10 years. | Higher costs. Of course, you're paying more for a vehicle that hasn't been owned. You'll also pay more (likely) for insurance, sales tax and maintenance. |
| Newest technology. New cars come with new tech and features. Fun abounds. | Leasing restrictions. While you can lease a new car, you cannot lease a new car and break any of the leasing rules (mileage, wear and tear, etc.) |
| Leasing. You can't lease a used car or CPO vehicle. | |
| Few repairs needed. The only thing you need to worry about is maintenance (oil changes, tire rotations, etc.) | |
| Plenty of financing options. You can get manufacturer incentives when financing a new car. Ask us about our vehicle deals in Miami or start your auto finance application online. | |
| Freebies aplenty. When you buy a new vehicle, you may be eligible to receive some free services, like roadside assistance, SiriusXM Radio, or navigation. | |
Used Vehicles: Pros & Cons
| | |
| --- | --- |
| Advantages | Disadvantages |
| Lots of options. No matter where you are, used car lots near you will have a vehicle that's perfect for your budget, personality, and needs. | Too many options. On the other hand, you also might have too many used cars from which to choose, which may make it more difficult to pick something. |
| Better resale value. The vehicle has already depreciated, so you're less likely to end "upside down" on a used car loan. | Repairs are on you. Because it's not covered by a warranty (probably), you'll have to pay out of pocket for all repairs, with the exception of recalls. |
| Lower prices. You can find deals on used cars near you easily enough. | Compromise. You'll never find the best used car for you since you can't build it yourself, so you'll be forced to compromise something. |
| Costs less to insure. Expect lower premiums on car insurance if you own an older pre-owned vehicle. | Potential reliability concerns. Although you can get a vehicle history report, that won't guarantee the car is free of issues. Lemon Laws only exist |
|   | Dated tech and safety features. Depending on the age of the used vehicle, it may be missing features like USB ports, adaptive cruise control, or touchscreen navigation. |
|   | High mileage. A vehicle's lifespan will decrease as the odometer ticks up. |
Certified Pre-Owned Vehicles: Pros & Cons
| | |
| --- | --- |
| Advantages | Disadvantages |
| Peace of mind. All CPO vehicles are sold with extended warranty coverage. | No leasing. Although CPO cars are like-new, they aren't new, thus the no-leasing option. |
| Late-model vehicles. To be eligible for a manufacturer's certified program, vehicles must be no older than 5 or 6 years. | Less selection. There are fewer certified used vehicles available than pre-owned or new. |
| Low mileage. Only vehicles under a certain mileage, typically ranging from 60,000 to 70,000, qualify for CPO status. | It's still used. You can get a lot of great value out of a CPO car, but that doesn't mean it's a risk-free investment. |
| Costs less than new. | Costs more than used. |
Looking for a new, CPO or used car in Miami? Head to any of our Braman Miami car dealerships to browse our selection. We have hundreds of new and pre-owned vehicles for sale in South Florida, including luxury vehicles, sports cars, and hyper cars. Feel free to call us at (305) 720-2545 to speak with a salesperson today!
Make an Inquiry
* Indicates a required field